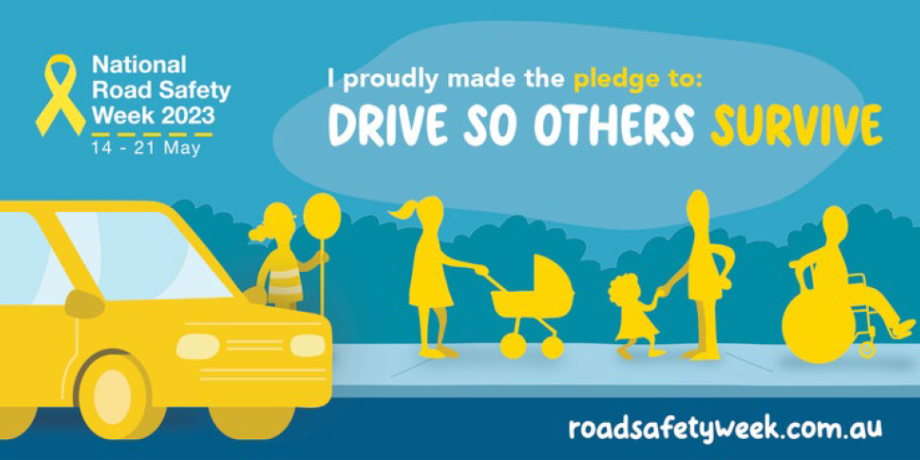 National Road Safety Week 2023, held from 14 to 21 May, aims to raise awareness of the number of people that are killed or injured in road crashes, and provide an opportunity for people and organisations to actively commit to safeguarding the lives and health of all road users, including pedestrians.

Despite best efforts to decrease the risk of road incidents, every year around 1,200 people are killed and over 40,000 seriously injured on Australian roads, highlighting the need for initiatives such as National Road Safety Week. There's no one someone won't miss.

The week is an annual initiative from the Safer Australian Roads and Highways (SARAH) Group which was established by Peter Frazer after his 23-year-old daughter Sarah was killed in a road crash on the Hume Highway in February 2012. Sarah's car broke down while travelling to Wagga Wagga to begin university. Both Sarah and the tow truck driver were struck and killed by a distracted driver.

The colour yellow is associated with National Road Safety Week. Icons across the country will be lit up to shine a light on road safety. Displaying and wearing yellow ribbons both honours those we have lost and reminds us all to drive safely.

Narrandera Shire Council is holding a range of activities during National Road Safety Week, including the opportunity to take the pledge to 'drive so others survive' and collect a yellow lapel ribbon.
The first activity will be a Seniors Road Safety Workshop, which provides information and tips to improve safety when on or near the roads, will be held Tuesday 16 May at Narrandera Ex-Servicemen's Club. The workshop includes information and checklists for all road use, whether driving, riding, walking, catching public transport or using a mobility scooter. Starting at 11am the workshop will include a break for a roast lunch before finishing at 2pm.

On Wednesday 17 May there will be a free Helping Learner Drivers Become Safer Drivers Workshop online from 7:00-8:00pm. This is for anyone who will be supervising a learner driver including parents, relatives, friends and carers of the learner driver. Attending supervising drivers will have the chance to win a voucher for a driving lesson for their learner with a local instructor.

The final activities will be on Sunday 22 May at the Emergency Operations Centre (EOC). From 9am to 11am everyone is welcome to drop in for a chat with Council's Road Safety Officer. There will be vouchers available to have your child restraints checked and fitted by authorised restraint fitter, Rodney Flanagan from Safari Motors, as well as plenty of road safety information.

There will also be a free motorcycle workshop on Sunday, from 10:30am-12:30pm at the EOC, presented by Survive the Ride Association of NSW This workshop assists riders to enjoy riding and minimise risks.
Everyone is encouraged to take the following pledge to drive so others survive.

I pledge to drive as if my loved ones are on the road ahead.
I will remove all distractions and never use my mobile phone while driving.
I will not put other people at risk by speeding, driving while tired or under the influence of
drugs/alcohol.
I will protect all vulnerable road users, especially those whose job places them in harm's way,
by slowing down and giving them the space they need to be safe.

Everyone has a role to play in reducing the number of preventable and foreseeable deaths and
traumatic injuries on our roads. For more information on National Road Safety Week or to take
the pledge visit www.roadsafetyweek.com.au

For more information on NRSW activities in Narrandera contact Narrandera Shire Council or
visit Council's website. For some activities bookings are required and numbers are limited. Lapel
ribbons will be available to the public from Council's customer service area.