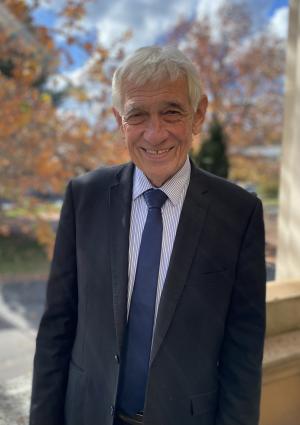 Cr Neville Kschenka was re-elected to as one of Narrandera Shire Council's nine (9) Councillors in 2016 and was elected Mayor at the September Statutory meeting.
At the meeting of Tuesday 18 September 2018, Cr Kschenka was re-elected as Mayor for his second consecutive two-year term, followed by re-election 2022 and again in 2022. 
Neville was born in Culcairn NSW and educated at Pleasant Hills Public School then at Coolamon where he lived and worked on his Grandfather's farm until commencing work with the PMG, which job brought him to Narrandera in 1963 as a Telegraphist. He married Carmel Newton, who has lived her entire life in Narrandera, in 1970 and has 3 sons, 2 of whom still live with their families in Narrandera. From 1965 he spent a total of 15 years in the Automotive Industry, a further 5 years at Richards Department Store as Office Manager then Manager of Furniture, Electrical and Floor Coverings.
He and his family have operated a regional musical instrument business from 1982 until the present time. The business is also licensed to install security systems and sound equipment. Neville has been doing live music performances since age 10. One term on Council was served from 1987 until 1991 and he was Chairman of the Chamber of Commerce for several years during the early 1990's.
He understands that country towns were originally established to service the rural community and now that there are far fewer land holders, the rate burden is spread amongst less rate payers to maintain the same number of roads. Heavy vehicles are also much larger than in the past, requiring better road surfaces.
Neville believes that with the changes in society that have taken place over the years, towns in Narrandera Shire also need to look for other sources of income such as travellers and visitors to remain viable and retain vital services needed by the Shire residents.
Council should keep abreast of the needs of established industries and well as encouraging new business and industry to establish in the Shire.
Cr Kschenka is a founding member of the Narrandera Business Group and the Rockin' on East committee and has represented council in the last term on the Sesquicentenary Planning, Lake Talbot and Environs, Arts and Community Centre and John O'Brien Festival Organising Committees. He has also chaired various fund raising committees since the 1960's.