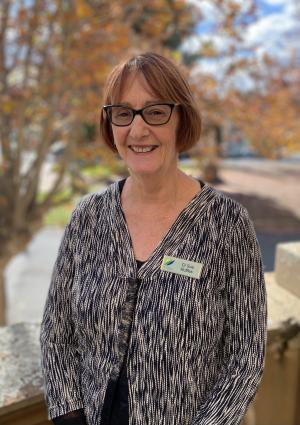 Elected to Council in 2022, Cr Sue Ruffles was born in Narrandera and has resided in the town all her life with short times living in Sydney when working for Telecom and in Wagga to attend the Riverina Teachers' College. 
Sue's teaching career began at Narrandera Public School and, following promotions in Ganmain, Parkview and Leeton schools, returned to Narrandera Public as Principal and then as Principal School Leadership. She retired from full-time work with the NSW Department of Education in 2022 and now works as a Principal Coach-Mentor, a role with key responsibilities to support school leadership and the department's School Excellence Policy implementation.
Sue has an extensive background in rural education having held state chair, delegation and advisory positions in a professional association. Being passionate about local issues, having a strong background in strategic planning and resourcing and policy-driven environments, and understanding local and rural contexts and complexities.
Working for many years with youth and families, raising her children in Narrandera, and now watching her grandchildren enjoy their childhoods here, Sue knows the importance of having a strong and vibrant community that works together to make lifestyles 'even better' now and into the future.
Sue has a range of personal life interests and is involved in community groups including Narrandera Community & District Radio 91.1 Spirit FM as secretary and presenter, Narrandera Landcare, Narrandera Arts Committee, Narrandera Garden and Camera Clubs. She loves attending community events and is always happy to help out if and when needed. Sue enjoys reading, taking photos, live music and theatre, her dog, golf, bushwalking and just being around family and friends. 
Sue loves living on Wiradjuri country in Narrandera. As a councillor she is driven to promote all that is wonderful about Narrandera Shire beyond shire boundaries while advocating for, and balancing, the need for quality living for residents.
Sue believes that establishing and maintaining vibrancy across the Shire's communities, exploring and creating and sustaining opportunities, prioritising strong partnerships and connections within and outside the Shire will all combine to enhance holistic community wellbeing and strong foundations on which community aspirations can be continued and built upon.
During her term as Councillor, Sue's commitments to being well-informed, being curious and questioning, being an approachable on-the-ground citizen and local government representative are at the forefront of her work on behalf of Narrandera Shire's people.